News
Futsal World Cup Looks Wide Open
2012-11-15
By Tim Sheldon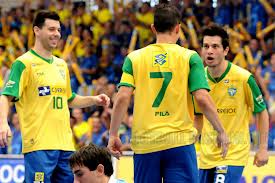 (Photo: Brazil will once again be a top contender to win the FIFA Futsal World Cup, but the competition looks wide open this year.)
What do we think of the FIFA Futsal World Cup right now?
We're in the group stage, and it's wide open. Never before have so many countries played Futsal at such a skillful level.
brazilatopcontender110412.jpg (13273 bytes)The more Futsal is televised, the better the production gets, from commentary to camera work. We have been watching on ESPN3 and are very pleased with the overall production, although it's still evolving.
We would like to see more discussion of overall field position. They could use graphics to show the basic diamond positioning shift into a trapezoid. It's fascinating, because if mistakes are made in positioning, it can be deadly in a game as fast and skillful as Futsal.
I'd like to see the ball in the air more. Chips are very possible, and heading can be a tactic that is used more. The Futsal ball is a size smaller and slightly lighter that the outdoor ball, so it should be possible to head in a pass lifted to the far post.
Who is going to win this tournament? My pick is Argentina, who have a rapidly-emerging Futsal program and won the CONMEBOL Qualifying Tournament, but there are a lot of teams in the running right now.
In Group A there are, in order of ranking, Ukraine, Thailand and Costa Rica. In Group B there are Panama, Iran and Spain. In Group C we have Brazil, Portugal and Japan. In Group D there are Italy and Argentina. In Group E there are Serbia and the Czech Republic, and in Group F there are Russia and Guatemala.
The CONCACAF region, with Costa Rica, Panama and Guatemala looks very formidable.
We don't think anyone can slip into easy control of this tournament. It's wide open and the level of play has never been better. Futsal is one of the world's great sports, and this tournament has been great entertainment, with more to come.