News
Guatemala, Mexico win futsal friendlies
2012-11-04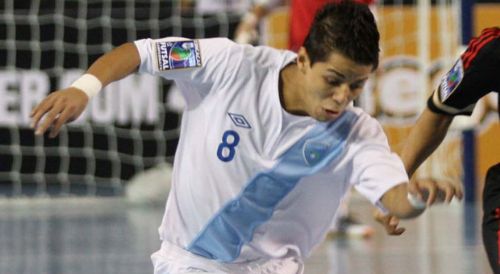 Guatemala's Humberto Escabar (photo courtesy CONCACAF).
October, 22, 2012 - Guatemala and Mexico posted victories in road friendlies over the weekend during its preparations for the 2012 FIFA Futsal World Cup in Thailand.

The visiting Guatemalans, who have played the most internationals of any CONCACAF team over the last four years, swept Malaysia in a two-game series played at the Panasonic Sports Complex in the city of Shah Alam (located 16 miles west of Kuala Lumpur).
In Friday's opener, Edgar Ernesto Santizo scored twice, while Allan Josue Aguilar, Manuel Aristondo, Jaime Estuardo De Leon, Jose Rafael Gonzalez, Billy Joel Pineda and Miguel Angel Santizo contributed a goal apiece in an 8-2 win for the Chapines.
The eight goals were the most by a CONCACAF side against an Asian team in a futsal game since the United States blanked host Hong Kong, 6-0, just before the start of the 1992 FIFA Futsal World Cup.
Guatemala -- one of only three CONCACAF teams to win a futsal match on Asian soil -- closed out the brief tour on Saturday with a 4-3 triumph. The winner got two goals from Humberto Armando Escobar, plus single tallies from De Leon and Walter Alejandro Enriquez.
Elsewhere, on Sunday, Mexico earned its first victory during its trip to Spain by defeating local first division club Inter Movistar FS, 2-1, at the Pabellón Polideportivo Caja Madrid in Alcalá de Henares.
The Tricolores jumped out to a 2-0 lead over the eight-time LNFS (Spanish Futsal League) champion thanks to first half goals from Jose Omar Cervantes and Jorge Alberto Rodriguez.
Despite playing without three key players called into the Spanish side for the Futsal World Cup (GK-Juanjo, DF-Ortíz, MD-Álvaro), Inter Movistar got on the board with a tally from Diego Armando with two minutes left on the clock.
This week, Ramon Raya's squad will face Navagalamella FS (Oct. 22), Escuela Javier Limones FS (Oct. 23) and Brihuega FS (Oct. 24).
The Tricolores will compete in their first Futsal World Cup next month and are in Group D with Argentina, Australia and Italy. Guatemala, which is playing in its third FIFA event, will meet Colombia, Russia and Solomon Islands in Group F play.