News
Draw made for FIFA Futsal World Cup
2012-11-01
(FIFA.com) Friday 24 August 2012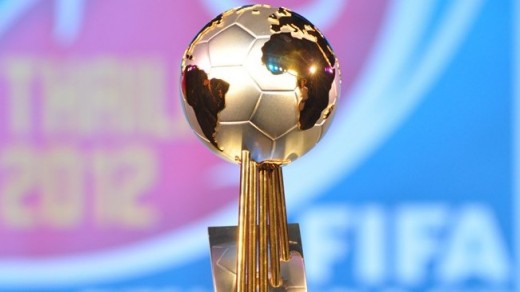 Fans around the world were eagerly awaiting the Official Draw for the FIFA Futsal World Cup Thailand2012, which took place this Friday 24 August at the St. Regis Hotel in Bangkok, with guests including FIFA Executive Committee member Manilal Fernando and Local Organising Committee Chairman Suwat Lipatapallop. Suttipong Tatpithakkul was the host of the ceremony, while the Official Draw was carried out by Jaime Yarza, FIFA's Senior Manager of Futsal and Beach Soccer Competitions. Helping him were Thai boxer Somluck Kamsing, who won a gold medal at the 1996 Olympic Games in Atlanta, former Thai football international Kiatisuk 'Zico' Senamuang, as well as Natpimol Natthayalack and Warudthaya Wongchayapon who finished first and third respectively at the Miss Universe Thailand 2012 competition.
This is the seventh hosting of the event and 24 countries are involved this time around, split into six groups. Hosts Thailand are in Group A and will be hoping to overcome Costa Rica, Ukraineand Paraguay to make it through to the Round of 16.
Reigning FIFA Futsal World Cup winners Brazil were the first team drawn in Group C and will face experienced opponents from three different continents in the shape of Japan, Libya and Portugal.Spain meanwhile, who on paper are the team most likely to dent the South American title-holder's chances of a repeat performance, find themselves in Group B alongside Iran, Panama and Morocco.
Group D looks to be the most balanced of the six, with Argentina, Mexico, Italy and Australia all having the potential to make it through to the knock-out stages. The tournament begins on 1 November with the final being held in Bangkok on 18 November. The Thai capital has three matchday venues, while Nakhon Ratchasima will also be hosting games.
The 24 participating teams were drawn in six groups of four, with the top two from each group going through to the Round of 16 along with the four best third-placed teams.
Group A: Thailand, Costa Rica, Ukraine, Paraguay
Group B: Spain, Iran, Panama, Morocco
Group C: Brazil, Japan, Libya, Portugal
Group D: Argentina, Mexico, Italy, Australia
Group E: Egypt, Serbia, Czech Republic, Kuwait
Group F: Russia, Solomon Islands, Guatemala, Colombia
The draw was almost complete when it was realised that two South American teams had been drawn together in Group C, which was not allowed as per the Draw regulations. Therefore, after a short break, the final four teams were re-drawn, ensuring that the only group with more than one team from the same continent – due to seven qualifiers coming from Europe - is Group E, which featuresCzech Republic and Serbia.
After the dust had settled, Thailand coach Vic Hermans gave his reaction to the draw, expressing confidence in his side's ability to reach the knockout stage. "Of course I'm confident," he said. "When you look at Ukraine, Paraguay and Costa Rica, the first reaction is, 'That's tough'. But we have a good young team and we beat Iran at the AFC Championship in Dubai which was not expected of us. Based on our performances there, I'm 100 per cent confident we can progress to the second round."
Miguel Rodrigo, coach of the AFC Futsal Championship winners Japan, was cautiously optimistic about the draw. "We're playing in a really difficult group. I have hope and I trust in my team to move on to the second round. The latest results against Portugal and Brazil and our win in the Asian Championships this year make me optimistic."
The new Futsal World Cup Trophy was also presented during the Official Draw. It has been designed and created by Thomas Fattorini Ltd. in Birmingham, England and comprises five gold and five silver rods which represent two teams of five players each. It is 48 centimetres high, weighs 4.6 kilogrammes and is made up of sterling silver, stainless steel, copper, lead and zinc.
Tickets are already on sale for the FIFA Futsal World Cup Thailand 2012, with matches being played in Bangkok (at the Bangkok Futsal Arena, the Indoor Stadium Huamark and the Nimibuth Stadium) and Nakhon Ratchasima (at the Gen. Chatchai Choonhawan Arena Nakornratchasima).