News
Canada Advances past El Salvador
2012-10-14
GUATEMALA CITY (6-29-12) - Goalkeeper Joshua Lemos scored from midcourt with five seconds remaining to complete Canada's 6-2 victory over El Salvador on Friday and sent the North Americans into the CONCACAF Futsal Championship finals.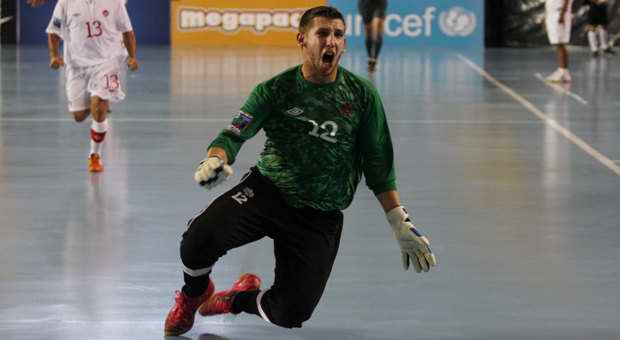 (Photo: Joshua Lemos. Courtesy CONCACAF.)
Lemos' blast from just inside the halfway line capped Canada's rally from Thursday's 4-1 loss in the first game of a two-leg playoff, and earned the side a 7-6 aggregate win for the last place in the eight-team CONCACAF finals that begin Monday in Guatemala City. It will be the first time Canada has played in the confederation championship. It will open Monday against host and defending champion Guatemala and also face two-time champion the United States and Panama in Group A.
Matthew Rios scored with 16 seconds left in the match to put Canada ahead 5-2 and equalize the two-leg aggregate before Lemos' dramatic strike. Canada, which outshot El Salvador 36-27 in Thursday's game, jumped ahead 2-0 on an own-goal by Victor Chavez of El Salvador and another strike by Alvaro Yaques, both in the 14th minute.
Louis-Charles Laliberte and Alex Elliot, who had Canada's lone goal in the first leg, extended the lead with tallies in the 23rd and 26th minutes. Rene Rosales, who had all of El Salvador's goals in the first leg, scored in the 32nd minute to make it 4-1 and added a second, appearing to seal "Los Cuscatlecos" place in the CONCACAF finals, with 33 seconds remaining.
El Salvador has made only one appearance in the CONCACAF finals, the inaugural championship in 1996 when it lost to both Mexico and Guatemala.
Quick notes about the encounter...
* Maple Leafs win playoff series 7:6 on aggregate
* Canada advances to final round of CONCACAF Futsal Championship for the first time; joins Group A along side Panama, USA and host Guatemala with the tournament running from 2-8 July
* Canadian Joshua Lemos scores deciding goal with five seconds remaining and becomes third-ever goalkeeper to score in CONCACAF Futsal Game (others: Wilfredo Carbo - Cuba; Carlos Merida - Guatemala)
* First victory for Canada in CONCACAF qualifying since 2004
Match Report
29.06.2012: Ciudad de Guatemala, GUATEMALA; Domo Polideportivo (A: Closed Door)
EL SALVADOR - CANADA 2:6 (0:2)
Rene Guillermo ROSALES 32', 40' – OG (Victor Manuel CHAVEZ) 14'; Alvaro YAQUES 14'; Louis-Charles LALIBERTÉ 22'; Alex ELLIOT 26'; Matthew RIOS 40'; Joshua LEMOS 40'

SLV: 14-Oscar Alfredo Montano – 2-Carlos Mauricio Rivera, 5-Renato De Jesus Hernandez, 6-Hector Alex Bernal, 7-Rene Guillermo Morales.
Subs: 3-Jonathan Steve Saravia, 8-Jose Isaias Hernandez-C, 9-Enso Antonio Reyes, 10-Victor Manuel Chavez, 11-Asdrubal Kasselly Flores, 12-Wilber Ernesto Galdamez. Booked: none
TD: Jose DE LA CRUZ

CAN: 12-Joshua Lemos – 2-Bruno Xavier-C, 6-Louis-Charles Laliberté, 8-Robbie Aristodemo, 11-Ian Bennett.
Subs: 3-Robert Tice, 4-Daniel Chamale, 5-Jordan Ongaro, 9-Matthew Rios, 10-Alex Elliot, 13-Alvaro Yaques. Booked: Bennett 3', Xavier 13', Rios 30', Elliot 32'
TD: Sipho SIBIYA

Statistics: SLV - CAN
Total Shots: 27 - 50
Shots on Target: 11 - 27
Saves: 13 - 8
Fouls: 5 - 8
Corners: 5 - 12
Double Penalty: 0/1 - 0/0

R1: Hector MESEN (CRC)
R2: Geovanny LOPEZ (CRC)
R3: Antonio ALVAREZ (CRC)
TK: Francisco RIVERA (MEX)