News
Canada Names Roster for Friendly Matches with Costa Rica
2012-10-05
By Steven Torres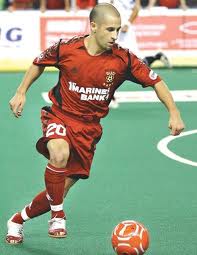 (Photo: Robbie Aristodomo.)
NEW YORK (6-22-12) - Canada's Futsal team head coach Sipho Sibiya has announced a 14-player roster for its two-game friendly series against host Costa Rica this weekend (23 and 24 June) in Heredia.
This will be the first-ever Futsal meeting between the Maple Leafs-Ticos as the encounters are set to take place at the Palacio de los Deportes. (Photo: Robbie Aristodomo.)
The roster includes Midfielder Ian Bennett of the Milwaukee Wave's Major Indoor Soccer League (USA) along with San Diego State University's forward Jordan Ongaro. Also on the squad is midfielder Robbie Aristodemo, who has previously played in all the Canadian National Teams (Men's, Under-23, U-20, U-17) and is Girls Varsity Soccer Coach at Montverde High School in Orlando.
After the two match-ups against Costa Rica, the Canadian side will travel to Guatemala where it will face El Salvador in a two-game playoff series on 28 and 29 June, respectively, with the winner processing to the 2012 CONCACAF Fustal Championship.
The fifth CONCACAF Futsal Championship will be held at the Domo Polideportivo in Ciudad de Guatemala from 2-8 July, with the Canada-El Salvador winner will join Panama, USA and host in Group A, while Group B is composed of Costa Rica, Cuba, Mexico and St. Kitts & Nevis. The eight-team tournament will qualify for the first time four nations to the FIFA Futsal World Cup Thailand 2012.
CANADA
GK: Roy Blanche (Brampton City United FC), Vincent Cournoyer (Université Laval), Joshua Lemos;
DF: Daniel Chamale, Bruno Xavier (Importal DC/POR), Alvaro Yaques (Brampton City United FC);
MD: Robbie Aristodemo, Ian Bennett (Milwaukee Wave/USA), Alex Elliott, Robert Tice (Kjelsås IL/NOR);
AT: Steve DeBlasio (Columbus FC), Louis-Charles Laliberté (CSVR), Jordan Ongaro (San Diego State University/USA), Matthew Rios (Toronto Croatia). TD: Sipho SIBIYA