News
Barcelona Futsal Team's Reception
2012-08-14
By Tim Sheldon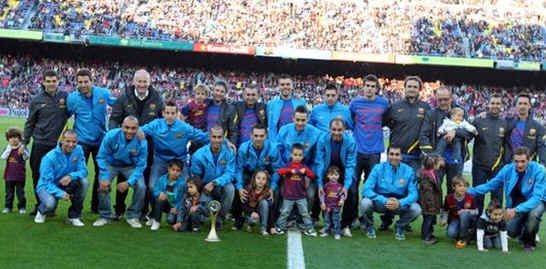 (Photo: Barcelona's UEFA Futsal Champions honored at Camp Nou Stadium. Photo courtesy UEFA.)
BARCELONA (6-1-12) - When FC Barcelona's UEFA Futsal Cup victory was honored in front of 68,000 fans at Camp Nou Stadium on Wednesday, May 2, it not only marked the beginning of a new era for Barcelona Futsal, it raised the level of the entire world of Futsal. Coach Marc Carmona and his team assembled for a photo in the center of the pitch and received a standing ovation from the crowd.
"It's another step in continuing to make history," said club president Sandro Rosell. "Things do not happen by chance, there are many people who have been working towards this. Our goal is to reap the fruits of work done while planting for those to come."
Victor Beceiro, former FIFA Futsal Director and FC Barcelona media relations executive agreed that Barcelona has taken World Futsal to a new level. "That is absolutely true," he said. "Barcelona won La Liga and the UEFA Futsal Championship, and the Futsal team was honored outdoors at Camp Nou Stadium. It is almost unheard of for an outdoor team to relate to futsal in this way.
"In Portugal they have Benfica and Sporting Lisbon that are Futsal powerhouses, and they have very high recognition from their football partners.
"In Spain, there are no teams with the attitude of Barcelona. Some teams in the past, but never at the same level." FC Barcelona and World Futsal have a shared future, a synergy in which the final product may be much greater than anyone expected because of the commercial edge, media exposure, team organization and technical skill that Barcelona brings to the sport.
Beceiro said that by sharing these world-class resources, Barcelona can help bring to World Futsal "a strong commercial edge in order to position itself within the sports business market." Beceiro added that Futsal has always been under the shadow of football, the biggest sport in the world, and has not been able to find its own image in the sports family. "The challenge now is to convert interest in Futsal into a commercial edge and business-minded attitude and leadership. Once Futsal gains sponsorship, football will look at Futsal in a completely different way." In a way that FC Barcelona is doing now.