News
Japan crowned the new kings of Asian futsal
2012-08-13
By Steven Torres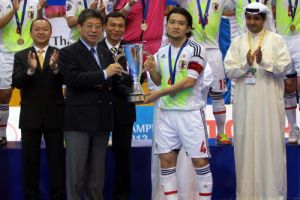 Dubai: AFC Acting President Zhang Jilong congratulated Japan after being crowned the new kings of Asian futsal following their sweeping 6-1 victory over Thailand in the AFC Futsal Championship UAE 2012 final.
Speaking to www.the-afc.com after the final at the Wasl Indoor Stadium Jilong, pictured presenting the trophy to Japan skipper Yusuke Komiyama, said that East Asians' victory shows overall improvement of the game in the continent
"Firstly, I would like to congratulate Japan for regaining the title they last won in 2006," he said. "Iran and Japan have been a dominant force in Asian futsal over the years but teams like Thailand, Kuwait and Australia have proved that they are capable of turning the tables.
"I would also like to congratulate all the five teams – Thailand, Japan, Iran, Australia and Kuwait - who have qualified for the FIFA Futsal World Cup in Thailand. I hope they make Asia proud at the world level."
Jilong also thanked the UAE Football Association for hosting the premier futsal competition in Dubai. "It was one of the best organised futsal competitions I have ever seen in Asia. All the credit goes to the Local Organising Committee for their efforts in making this a success."