News
U.S. FUTSAL AND AUSTRALIAN FUTSAL
2011-12-02
San Francisco, California – Sept 5, 2011


In what may be seen in the future as a historic moment for the game, US Futsal and Australian Vikings Futsal met this week to plan future international tournaments and relationships between each other. Alex Para, CEO of US Futsal and his counterpart Alistair Miller discussed a number of opportunities and came to agreement on a number including:
Pacific Cup for Pacific Ocean bordering nations to be played every two years(first 2012), for the age groups 17 years boys ,19 years boys and open age men and women.
Women's World Championship (first 2013) for women's national teams
World Club Championships for men and women to be held annually (first 2012) for the champion club teams of each nation.
The champion Australian teams from the January Australian National Titles in men and women will qualify for the prestigious Gold Cup of Nations held at USA Nationals in July each year.
The champion USA teams from the USA July nationals in men and women will qualify to compete in the Australian nationals in the following January.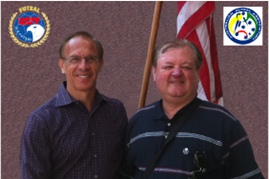 Both countries have been running tournaments with other nations on their own sides of the Pacific and hopefully this will bring them all together. Further details on all tournaments will be issued later. In another ground breaking deal, both parties signed an agreement to assist in the development of referees by setting up an exchange programme for their national and international referees.

The first initiative is for each nation to send 2 referees to the others National Championship for the experience and exchange of ideas. This will start with two USA referees attending the Australian Nationals in January.

In a joint statement, the CEO' s stated "We are trying to provide more opportunities at an elite level in the sport, and hopefully this will be the start of a relationship that will offer thid. In time it is hoped more age groups will also become involved. "
For more information email info@futsal.com in the USA or viking@vikingsfutsal.net in Australia.