Ontario Futsal Association
---
Futsal Champions: St. Thomas beats London 7-1
St. Thomas women's futsal team has won the 23rd annual Ontario Futsal Club Championship at Rim Park in Waterloo, beating the London Athletic FC 7-1 in Sunday's final. Members of the team, form left are: front Nicki Brown, Jacquie Baker, Marlina Filipowic; back - Krista Ferguson, Keren Lewis, Carla Campbell, Nikki VanderWallen, coach Joe Filipovic. Absent are Nicole Devries and Breanne Carr.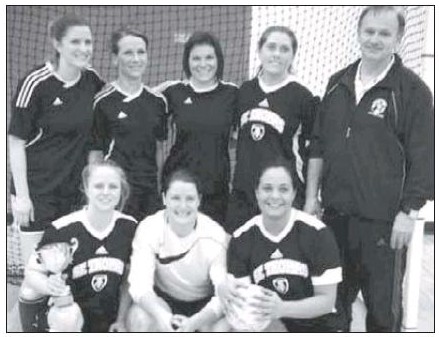 ---
2013 Ontario Futsal Club Champions Men's Division: London City Boys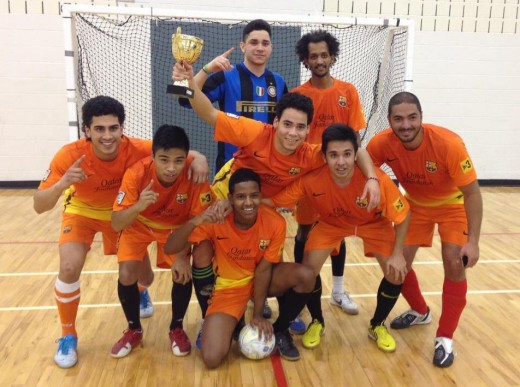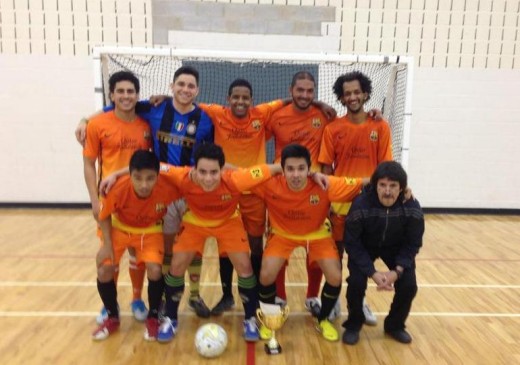 ---
ONTARIO FUTSAL CUP 2013
ONTARIO CLUB CHAMPIONSHIPS
For MEN & WOMEN, BOYS & GIRLS
Futsal Ontario
Ontario Futsal Association invites you to participate in the 23rd Annual tournament:

MARCH 16 & 17, 2013
at RIM Park in Waterloo, Ontario


| | | |
| --- | --- | --- |
| Age Divisions | Boys/Men | Girls/Women |
| Born on January 1, 2002 and later | U-11 | U-11 |
| Born on January 1, 2001 and later | U-12 | U-12 |
| Born on January 1, 2000 and later | U-13 | U-13 |
| Born on January 1, 1999 and later | U-14 | U-14 |
| Born on January 1, 1998 and later | U-15 | U-15 |
| Born on January 1, 1997 and later | U-16 | U-16 |
| Born on January 1, 1996 and later | U-17 | U-17 |
| Born on January 1, 1995 and later | U-18 | U-18 |
| N/A | OPEN | OPEN |

Awards: For Youth teams: Team and individual awards for Champions and Finalists. For Senior teams: Team trophy and cash prizes!

Registration: Click here for our registration form and return with cheque no later than February 15, 2013.

Cost: $350.00 per Men's Team, $325 for all other teams - payable to ONTARIO FUTSAL, 71 South Valerie Street, St. Thomas, Ontario N5R 1B1.

Rules: Games will adhere to the Laws of the Game for FUTSAL.

If you have any further questions, please call Bob Luft PH: (519) 631-5852 or Fax: (519) 631-8262
e-mail: r.luft@sympatico.ca

Tournament Format: Each team is guaranteed 3 (2X15 minutes) games in group round robin play. If there is more than one group, the top team in each group will advance to the finals. If there is a single group the two top teams will advance to the finals.

Eligibility: Applications are invited from teams which are duly registered. Players must be currently registered with a team and will be required to produce approved player passes. All Star Teams shall not be accepted.

Rosters: A team may have a maximum roster of 12 players. No changes will be allowed once the team begins to play. All youth players must show proof of age before their first game.
---
Men's Elite squad preparations for 2012/2013 Futsal Season
Futsal Club Toronto
Tuesday, December 4, 2012
The Ecuadorian born Canadian and assistant coach to the Canadian National Men's Futsal Team is back to the drawing board at Futsal Club Toronto; after a trip to Costa Rica and Guatemala City for the CONCACAF Futsal World Cup Qualifiers in June 2012.
Lorenzo Redwood, has joined forces with partner Roy Blanche this season and together they have re-inaugurated Futsal Club Toronto. After a successful campaign in 2010/2011 the Futsal Duo decided to re-establish Futsal Club Toronto and continue their successful futsal training with the club that won the 2011 Copa Canada Futsal National Championship title. Lorenzo Redwood, worked his magic in 2011/2012 with Brampton City United Futsal Academy and together they managed to secure 3 championship titles in the Toronto Futsal League, and crowned Men's Champions of the Canadian Premier Futsal League. Lorenzo was also awarded 2011 Toronto Futsal League "Best Coach of the Year".
In addition to preparing the team for the fixtures, Redwood will be looking at strengthening the squad with new signings. He will be taking a closer look at some international futsal talent that the club requires, and especially those players that are suitable to the needs of the team.
Redwood looks forward to the release of the fixture list for the 2012-2013 futsal season, and also the release of international tournaments details for 2013; Futsal Club Toronto is pumped up for the upcoming year. Players with the likes of staff are all looking forward to kicking off this new season; even though it is expected to be a more challenging year than the last one.
Redwood stated:
"The confirmation of the fixtures galvanizes everyone's thoughts towards the new season and the planning and preparation has already begun. We are looking forward to our opening game and expect it to be a challenging start.There's a lot of hard work to be done between now and then in order to ensure we are ready for the season ahead, but we are certainly looking forward to seeing what we can achieve with the new squad. We are looking at incorporating some U16 players from the club as well as some familiar faces and some exciting international talent. Futsal is definitely a priority for clubs and parents looking to strengthen their technique and ability; and this strengthens the competition across the board.
Redwood revealed that he felt his side has a lot of work cut out for them before they are fully prepared for the upcoming season.
---
1989 Indoor Soccer World Cup Footage from Canberra
---
2012 ONTARIO FUTSAL CLUB CHAMPIONSHIP FOR MEN WOMEN, BOYS
---
Misconceptions about Futsal
An outstanding article from FFV Futsal Head Coach Edgard Vatcky. This is a MUST read for everyone.
---